SIP! Mendocino is a unique wine shop that not only is a fun place to sip, but is a discovery center for wine lovers who are interested in learning about and buying fine Mendocino wines.
Located in charming Hopland on Hwy 101, SIP Mendocino is the perfect place to start your Mendocino getaway. Sample the best of Mendocino County wines with 6 different wines on the tasting and wine by the glass menu every day. The retail shop features over 100 different wines from small producers. Enjoy your favorite wine, cider or craft beer on the beautiful garden patio. Knowledgeable staff can help you plan your Mendocino travels and wine excursions. We are pet and family friendly.
Sip! Wine Club
Savor the great selection of Mendocino wines throughout the year and bring a slice of our beautiful county into your home every other month with our wine club.
Sip! Wine Events
Discover our featured wines while you meet the winemakers, experience specially prepared food pairings, and learn about the world of wine at our Thirsty Thursdays, Wine Education Series and Picnic on the Patio events.
Hopland Passport 10/17 & 10/18
Join us October 17th & 18th for a celebration of the fine wines of Hopland & Mendocino County. 2015 will be the first year SIP will be an official stop on the Hopland Passport wine trail and we have a full weekend planned for your enjoyment.
Special tasting of Mendocino's finest wines
Roasting local, grass-fed porchetta and sausages in front of the shop. What is porchetta? Italian in origin, porchetta is a savory, boneless pork roast where the body of the pig is deboned and arranged carefully with layers of stuffing (garlic,rosemary, fennel and other herbs), meat, fat, and skin, then rolled, spitted, and roasted
Cooking demo by Mendocino Organics on grass-fed, local pork (10/17 at 3pm)
Over a 100 hand-selected, local wines available for purchase
Glasses of fine wines, craft beers and local ciders will be available all weekend long for enjoyment on our garden patio
Tickets for the entire weekend are $45/person ($55/person at the door) and are available at destinationhopland.com/store.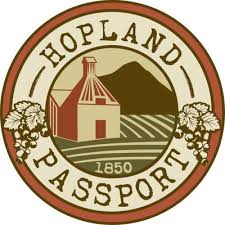 About Hopland Passport
With 15 participating wineries pouring their best wines, incredible food pairings, and two full days of tours, educational seminars, art, and live music, Hopland is the place to be for wine lovers.
Destination Hopland's Fall Passport 2015 has expanded to 15 wineries this year and will offer a new twist: educational seminars for those wishing to deepen their knowledge of wine. The region is host to more than 100 years of traditional winemaking, with grapes considered among the best in the world. Multiple generations of vintners have created a unique range of regional wines and original blends that have stood the test of time, representing a hidden jewel in beautiful Mendocino County. "Roots of Wine" promises to take visitors on a journey of taste and time – from learning about viticulture techniques to actual blending workshops; organic farming demos to olive oil making; brandy distilling demos to pairings with fine foods, this Passport offers a feast of opportunities you won't want to miss!

Winemaker Chris Nelson of Nelson Family Vineyards says, "Passport allows us winemakers to share our passion and joy for wine with the general public. We've crafted an experience that allows our visitors to immerse themselves in a sensory exploration that is all about the Sanel Valley and its rural homesteading roots."

For a detailed schedule of events and to purchase tickets visit hoplandpassport.com.
BOOK OUR PATIO FOR YOUR PRIVATE PARTY!